Implementing USP Chapter <797>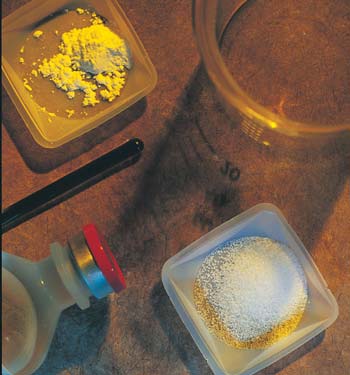 Permanent storage and easy retrieval of Journal articles and formulations.
- Print Journal articles in color for your research and marketing needs.
- Eliminate long searches through past issues for articles and formulations.
A collection of over 70 articles from 14 years of the International Journal of Pharmaceutical Compounding focused on USP <797> issues and solutions.
This archive contains the following articles:
STANDARDS
A Primer on USP Chapter <797>, "Pharmaceutical Compounding - Sterile Preparations," and USP Process for Drug and Practice Standards.
Overview of Chapter <797> "Pharmaceutical Compounding - Sterile Preparations": The Potential Impact for Compounding Pharmacists
Proposed Revisions to USP Chapter <797> Pharmaceutical Compounding-Sterile Preparations
Misinterpretation of United States Pharmacopeia Chapter <797>
Application of USP-NF Standards to Pharmacy Compounding
Quality Control Analytical Methods: USP Chapter <797> Compounded Sterile Preparations Sterility Requirements and Their Relationship to Beyond-Use Dating
USP Chapter <797> and Preparing for JCAHO Survey
Questions and Answers: USP Chapter <797> and JCAHO Compliance
Sterile Product Compounding: A Comparison of ASHP and USP Guidelines
Pharmacy Cleanroom Project Management Consideration: An Experience-Based Perspective Pharmacy Compounding Urban Legends
PostScription: Cleanroom Standards
Putting the Science Back into the "Art and Science" of Compounding
Using Purified Water for Reconstitutions
PostScription: GMPs and GCPs: A Topical Comparison
PreScription: GMPs vs. GCPs: Manufacturing and Compounding Definitions
Compounding Pharmacies: Before and After an Inspection
PostScription: GMPs vs. GCPs: United States Pharmacopeia General Chapters
Determination of Risk for Sterile Preparations
Pharmaceutical Compounding or Pharmaceutical Manufacturing? A Regulatory Perspective
Basics of Compounding Sterile Preparations: Nomenclature and Considerations
PostScription: Responsibilities of a Compounding Pharmacist
TESTING
Quality Assurance for Sterile Products
USP Chapter <797>: Practical Solutions for Microbiology, Sterility, and Pyrogen Testing
Sterilization and Depyrogenation Principles and Methods
Quality Control Analytical Methods: Chemical Testing Aspects of USP 797 for Compounded Sterile Preparations
Quality Control Analytical Methods: A Guide to Quality Control Testing for the Compounding Pharmacist
Quality Control Analytical Methods: Particulate Matter in Injections: What is it and What are the Concerns?
Standard Operating Procedure: Calculating the Endotoxin Load in Compounded Sterile Preparation
Basics of Compounding: Application of the United States Pharmacopeia Bacterial Endotoxins Test to Compounded Sterile Preparations
Comparison of Endotoxin Testing Methods for Pharmaceutical Products
Evaluating and Selecting an Analytical Testing Laboratory
Analytical Testing Facilities and Products
Analytical Testing of Extemporaneously Compounded Preparations
Particulate Testing for Sterile Products
Particulates in Parenterals
Preservation, Sterilization, and Sterility Testing of Ophthalmic Preparations
Standard Operating Procedure: Sterility Test for Ophthalmic Solutions
Sterile Compounding of Respiratory Inhalation Solutions
Quality-Control Analytical Methods: The Quality of Sterility Testing
Quality-Control Analytical Methods - Quality Control, Quality Assurance, and Quality Improvement--What is the Difference
PreScription: Quality Improvement in Pharmaceutical Compounding
Pharmacopeial Bacterial Endotoxins Test Chapters
Endotoxins: Essential Testing for Pyrogens in the Compounding Laboratory, Part 3: A Simplified Endotoxin Test Method for Compounded Sterile Preparations
Quality Control Analytical Methods: Strategies to Ensure a Robust Quality-control Microbiology Program
Establishing Benchmark Rates of Microbial and Bacterial Endotoxin Contamination for Radiopharmaceuticals Compounded in Commerical Nuclear Pharmacy Settings
Assessing the Stability of Common Radiopharmaceuticals Compounded and Utilized Outside Package Insert Guidelines
Quality Control Analytical Methods: End-preparation Assessments and Tests for Compounded Sterile Preparations
Quality Control Analytical Methods: A Growing Codependency: Compounding Pharmacy and Safety
Quality Control Analytical Methods: Laboratory Considerations of United States Pharmacopeia Chapter <71> Sterile Tests and Its Application to Pharmaceutical Compounding
Quality Control Analytical Methods: The Essentials of United States Pharmacopeia Chapter <51> Antimicrobial Effectiveness Testing and Its Application in Pharmaceutical Compounding
Quality Control Analytical Methods: Microbial Limit Tests for Nonsterile Pharmaceuticals, Part 1
Quality Control: Microbial Limit Tests for Nonsterile Pharmaceuticals, Part 2
Quality Assurance and Quality Control, Part 1
Quality Assurance and Quality Control, Part 2
Quality Control Analytical Methods: Physical Quantitative Verification of Nonsterile Compounded Preparations: Individualized Dosage Units
Development and Validation of an Inexpensive, Simple, and Rapid Technique for Measuring the Accuracy of Extemporaneously Compounded Pharmaceuticals
Microbial Identification in Pharmaceutical Compounding
Quality Control Analytical Methods: Method Validation
EQUIPMENT
Bacterial Isolators: A New, High-tech Option for the Preparation of Sterile Admixtures
Cleaning, Inspecting and Flow-Accuracy Testing of Ambulatory Pumps
Consideration for Choosing a Primary Engineering Control for Compounding Sterile Products
Controlled Environment Testing Association Applications Guide for the Use of Barrier Isolators in Compounding Sterile Preparations in Healthcare Facilities, Part 1
Controlled Environment Testing Association Applications Guide for the Use of Barrier Isolators in Compounding Sterile Preparations in Healthcare Facilities, Part 2
Local Ventilation for Safe Containments in the Pharmaceutical Industry
Sterile Compounding with Barrier-Isolation Technology
Technology Spotlight: A USP-Grade Water System
Using Automated Compounding Devices in the Practice of Pharmacy
Microbial Air-Sampling Equipment, Part 1: Meeting USP Chapter <797> Standards
Microbial Air-Sampling Equipment, Part 2 - Experiences of Compounding Pharmacists
Tips for Cleanroom Construction and Renovation
Aqua Pura: Water Purification Systems and United States Pharmacopeia Waters for the Compounding Pharmacy, Part 1
Aqua Pura: Water Purification Systems and United States Pharmacopeia Waters for the Compounding Pharmacy, Part 2: USP Waters: Experts at the United States Pharmacopeia Answer Compounders' Questions
Quality-Control Analytical Methods: Aqua Pura: Water Purification Systems and United States Pharmacopeia Waters for the Compounding Pharmacy, Part 3: Testimonials and Comparisons
Quality Control: Analytical Methods: Calibration of Equipment and Calibration Curves
Sterilization of Compounded Parenteral Products: Verification of Autoclaves
A Needle-free Reconstitution and Transfer System for Compounded Sterile Intravenous Drug Solutions: In Compliance with United States Pharmacopeia Chapter <797> Standards
Basics of Compounding: Certification of Sterile Equipment and Facilities: What Pharmacists Need to Know
Dry-heat Depyrogenation Ovens for Pharmaceutical Compounding Facilities
Safer Sterile Compounding: Choosing and Using Disinfectants for the Cleanroom
IMPLEMENTATION
Sterile Preparations, Part 1
Sterile Preparations, Part 2: The Responsibilities of Compounding Personnel in Implementing USP Chapter <797> Pharmaceutical Compounding
Sterile Preparations, Part 3: Considerations for Implementing USP Chapter <797> Pharmaceutical Compounding
Sterile Preparations, Part 4: Considerations in Selection and Use of Disinfectants and Antiseptics
Sterile Preparations, Part 5: Verification of Accuracy, Sterility, and Sterilization of Compounded Preparations
Sterile Preparations, Part 6: 2008 Revisions to Chapter <797>
Sterile Preparations, Part 7: Microbial Contamination Risk Levels, 12-Hour Use, and Immediate Use
Sterile Preparations, Part 8: Stability and Beyond-Use Dating
Sterile Preparations, Part 9: Immediate Use Compounded Sterile Preparations
Sterile Preparations, Part 10: First Revision: The Main Changes, Events, and Rationale
Overview of Beyond-Use Dating for Compounded Sterile Preparations
Sterile Preparations, Part 11: Hazardous Drugs
Sterile Preparations, Part 12: Sterilization Methods
Sterile Preparations, Part 13: Environmental Quality and Control
Sterile Preparations, Part 14: Environmental Quality and Control (Continued)
Sterile Preparations, Part 15: Personnel Training, Cleansing, and Garbing
Sterile Preparations, Part 16: Suggested Standard Operating Procedures
Sterile Preparations, Part 17: Elements of Quality Control
Sterile Preparations, Part 18: Verification of Automated Compounding Devices for Parenteral Nutrition Compounding and Finished Preparation Release Checks and Tests
Quality Control: 5 Steps to Improve Quality in the Compounding Lab
Beyond-use Date: Establishment and Maintenance
Depyrogenation Options for the Compounding Cleanroom
Standards of Practice, Professional Judgment, and Scientific Evidence to Establish and Extend a Beyond-Use Date
Basics of Compounding: Unique and Special Characteristics of Sterile Dosage Forms
Basics of Sterile Compounding: Aseptic Processing
Applying Quality of Design Concepts to Pharmacy Compounding
Introduction to Quality Control in a Compounding Pharmacy
OPERATIONS
Quality Control Analytical Methods: Quality Issues Related to Compounding with Commercial Products
Sterile - Product Preparations: Mix or Buy?
Improving the Management, Operations and Cost Effectiveness of Sterile-Product Compounding
Training and Competency Consideration for Pharmacies Providing Compounded Sterile Preparations
PostScription: Experts Everywhere
PostScription: Sterile Product Admixture Preparation
Purchasing Chemicals for Pharmaceutical Compounding
Compliance by Hospitals and Healthcare Facilities with the Revised United States Pharmacopeia Chapter <797>
Contract Sterilization and Validation Companies Offer New Options for Sterile Compounded Preparations
Preparing Nonsterile and Sterile Hazardous Compounds in an Institutional Setting
Compounding with Hydrates and Solvates
PreScription: Beginning of a New United States Pharmacopeial Convention, Inc., Cycle
PreScription: Sterile Product Outsourcing: Growing Trend in Hospitals
Compounding with Organic Salts
Compounding with Esters
PreScription: Compounding with Manufactured Products
Home Infusion: Overcoming the Barriers to Entry
Basics of Compounding: Repackaging, Part 1
Basics of Compounding: Repackaging, Part 2
Decontamination Technology: The Missing Element
Standarized Compounding: The Importance of Doing it the Same Way Every Time
Basics of Sterile Compounding: Sterilization Methods in Sterile Product Manufacturing
Basics of Sterile Compounding: Contamination Control
Root Cause Analysis, Part 2: Sterile Compounding
Being Prepared for U.S. Food and Drug Administration Inspections and Staying in Compliance with United States Pharmacopeia Chapter <797>: Part 1
Being Prepared for U.S. Food and Drug Administration Inspections and Staying in Compliance with United States Pharmacopeia Chapter <797>: Part 2